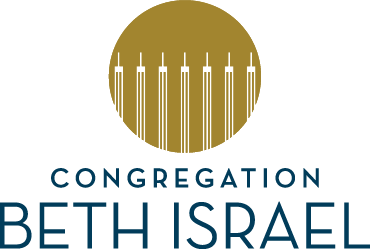 "A Time for Speaking"
From the desk of Rabbi David Lyon
A week ago, before the funeral for George Floyd, I urged us to listen. It was the right thing to do. Religious leaders who reached out to African American leaders for support as speakers in their own congregations were rebuffed. It wasn't time for Black leaders to serve anyone but their own congregants, families and neighbors. And, we needed to step back or stand with them.
On Tuesday, I stood with Abbie Kamin, our City Council member representing District C, who invited me to attend Mr. Floyd's funeral. The emotional funeral service was an overwhelming celebration of life amid palpable grief. Hours of gospel rock music, passionate words and eulogies, and personal rituals, only partially compensated for the incident of their loved one's death. Now, 8 minutes and 46 seconds have become a symbol of time that stole their loved one's breath and life. It also became symbolic of the age-old struggle of systemic racism that came down to this precise moment in time that cannot ever be rewound. Now it is time for speaking.
On Wednesday, a flurry of online and phone conversations began with faith and business leaders in Houston. Extending the reach of familiar efforts to build relationships across communities, specific plans are being made to be intentional about real change in our city. Work will begin immediately to address systemic racism and focus on steps that are sincere and enduring. For years, I've worked side-by-side our city's senior faith leaders; I can attest to our shared passion to make a difference.
Congregation Beth Israel will extend its familiar reach, too, as we seek the very best for our city in the future just as we've done in the past. Rabbi Samuel Karff, who served as senior rabbi from 1975-1999, remains highly respected for the paths he paved for all peoples in Houston, especially the underserved and unprotected. He was often joined by his colleagues in faith, Rev. Bill Lawson of Wheeler Avenue Baptist Church, and Archbishop Joseph Fiorenza of the Catholic Diocese of Galveston-Houston. Known affectionately as the "Three Amigos," they are still a formidable and resilient trio. It's out of respect for them that, though they still carry the torch, we must keep the light burning for justice, mercy and peace.
Please look for emails and updates about how we can make a difference. Please respond to the call to join me and partners in faith as we strive to understand our histories, lift up the fallen who have been held down, and live up to our best human instincts to build a better future for all.
As Shabbat enters our homes and hearts, let us be grateful for what past generations have done for us so that we might enjoy this day. Let us be humble and not haughty when we admire how far we have come and what we can do. Let us be hopeful for others and serve them according to their needs. Let us celebrate milestones along a new road where equality and inclusion are the stones beneath our feet and justice and peace are our destination.
From my family to yours, Shabbat Shalom,